Amphibious Excavator Price New Mini Hydraulic Crawler Excavator with Floating Pontoon
Product Detail
SERVICE
FAQ
Product Tags
In order to achieve a more perfect fit, Bonovo can customize the size according to the needs of customers.
Overall 3D and structural drawings:
Amphibious excavator is also called floating excavator, which is specially designed to function effectively on rivers, swampy lakes, canals and settling pond rehabilitation areas. We have professional team to design and custom made high quality and versatile models of amphibious excavators for all major brands of excavators ranging from 5 to 50 tons. Bonovo team can offer different project solutions including dredging pump, long-way walking, loading platform, sectional barge and long reach arms.
Spud Poles System
The Spud and Hydraulic Mechanism are integrated in the closed vice pontoon, which are installed on both sides of the amphibious excavator.
The hydraulic power can be used to control the tilting or up-and-down positioning. Its length is determined by the depth of the working area.
The spuds are erected when working, then be inserted into the mud by hydraulic mechanism.
The use of spuds will greatly improve the stability of equipment operation in water.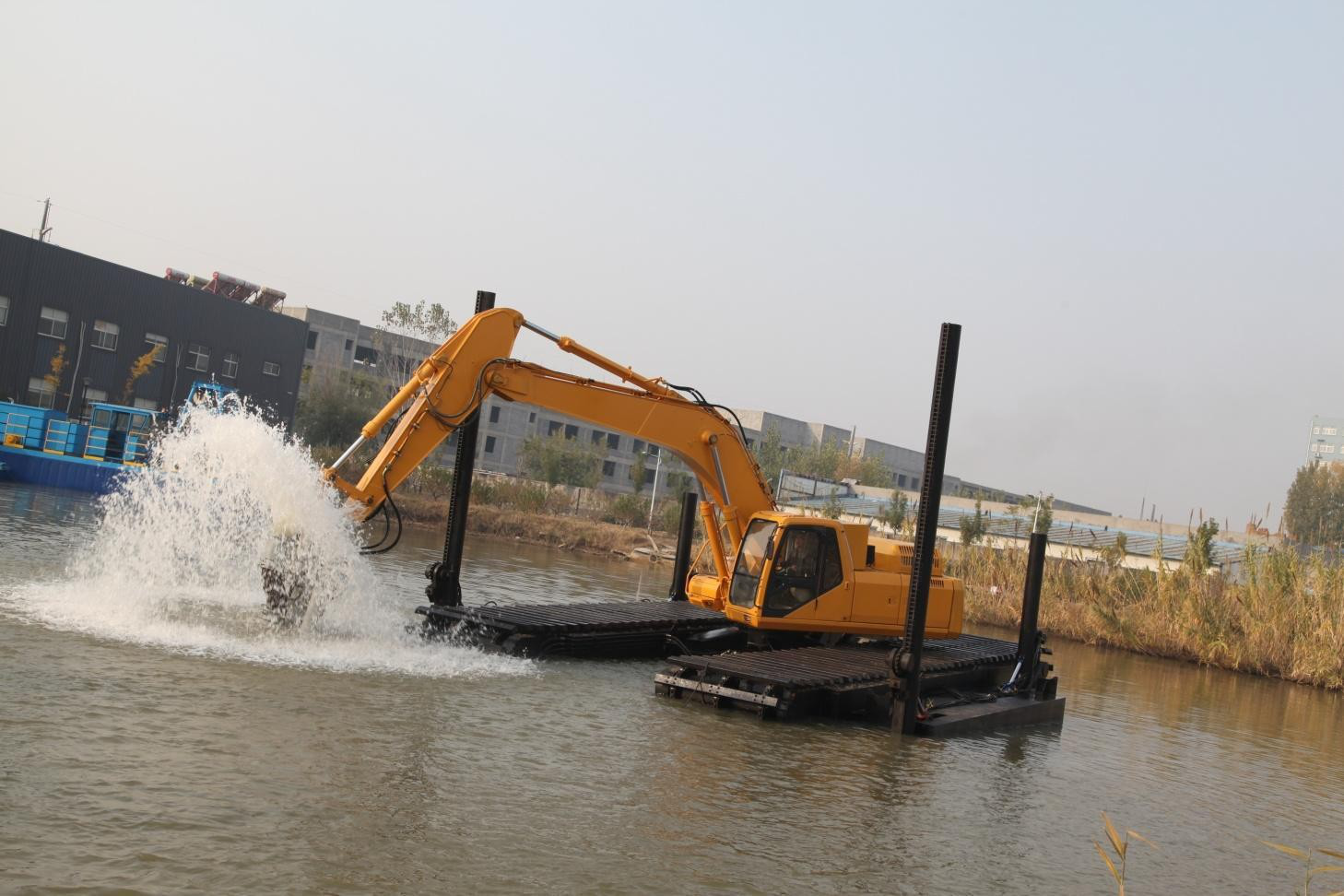 Undercarriage structure drawings:
 Retractable Pontoon 
Retractable Pontoon means the distance can be adjusted automatically between two pontoons in a certain range.
During construction working, in case of narrow working environment, pontoons in-between distance can be minimized during working.
With the function of space adjusting, we can help enhance the chassis stability and improve work efficiency of customers.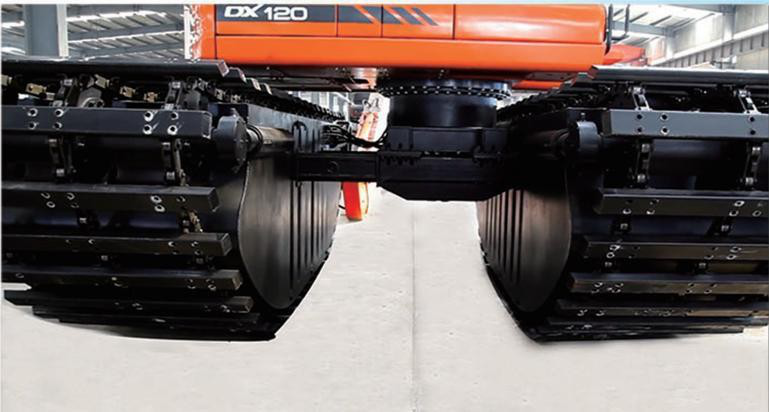 Amphibious Specifications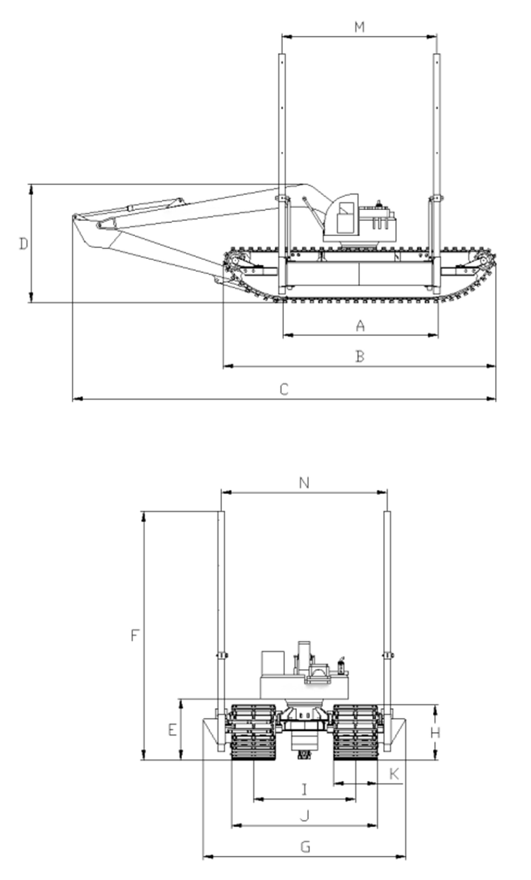 Description
Amphibious Undercarriage Models
AP-50

(3T-5T)

AP-80

(6T-10T)

AP-140

(11T-15T)

AP-180

(16T-19T)

AP-200

(20T-24T)

AP-250

(25T-27T)

AP-300

(27T-30T)

AP-350

(35T-40T)

AP-400

(40T-50T)

Pontoon Grounded Length (mm)
1200
2000
3500
4500
5000
6000
6500
7000
7000
Undercarriage Length (mm)
5200
5700
6200
8500
9500
10500
10500
11500
13500
Overall Length (mm)
6100
7260
8070
10290
11460
13300
13610
14480
14480
7300
9550
11300
12950
14450
14450
15450
15950
15950
8500
10550
12300
13950
15750
15750
16750
17100
17100
Overall Height (mm)
2600
3700
3770
2870
3950
3980
4040
4140
4800
Counterweight Ground Clearance (mm)
1510
1810
2010
2010
2010
2010
2010
2200
2540
Spuds Height (mm)
6000
6000
6000
8000
8000
10000
10000
12000
12000
Overall Width (mm)
4700
5500
6160
6360
6800
6800
8000
8000
8000
Pontoon Height (mm)
1340
1640
1840
1840
1840
1840
1840
2040
2340
Track Gauge (mm)
2700
3500
3660
3660
3700
3700
4700
4700
4700
Overall Width (mm)
3700
4500
5160
5160
5200
5200
6400
6400
6400
Pontoon Width (mm)
1000
1300
1500
1500
1500
1500
2000
2000
2000
Spuds Cross Range (mm)
3500
4000
4500
5000
5600
5600
5600
6000
6000
Spuds Width (mm)
4100
4900
5560
5560
5600
5600
6800
7000
7000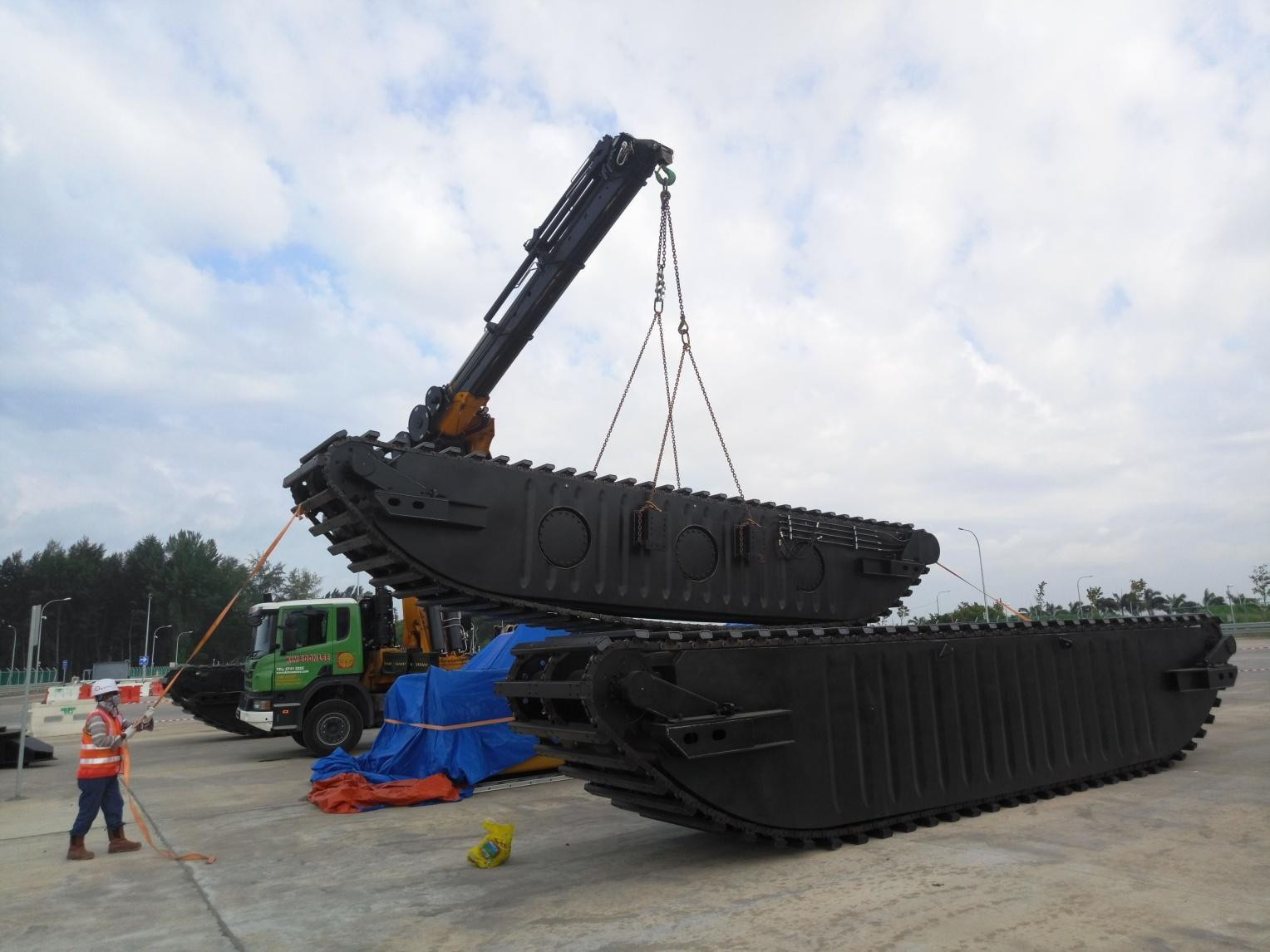 The Pontoon material is made of AH36 vessel special material and 6061T6 aluminum alloy with high strength material.
The anti-corrosion treatment adopts sandblasting and shot-blasting technology, which effectively improve the usage life.
Reasonable structural design and finite element analysis on-site destructive testing ensure the bearing capacity and safety of the Pontoon.
3 Chains Design: After the chain being used for a period of time, the pitch will increase due to wear of pin bushing, which will make the whole chain become longer and resulted into chain shedding or slippery when walking. It will seriously affect the operation. The tensioning device can ensure the chain pin and driving gear teeth properly engaged by adjusting the position of the sprocket. The bolt tightening is standard configuration of our pontoon. Cylinder tightening is much easier than bolt tightening, which can make balance adjustment and ensure more stable and efficient walking.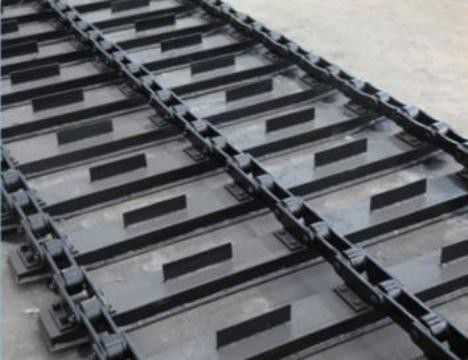 Manufacturing, testing procedures & applications
Trial operation & multi-function testing - long-way walking & dredging pump
Applicable Environment:
- Swamp land clearing at mining, plantation and construction area Wetland restoration and reclamation
- Flood prevention and control Water diversion project Transformation of saline-alkali and low-yield land Deepening of canals, river channel and river mouth Clearing of Lakes, shorelines, ponds and rivers
- Digging trenches for oil& gas pipe laying and installation
- Water irrigation
- Landscape building and natural environment maintenance
Container loading and Shipping: We make effective loading plan to save your freight shipping cost.
---
---
Q:Are you a manufacturer?
A:Yes! We are the manufacturer established in 2006. We do OEM manufacture service of all excavator attachments and undercarriage parts for famous brand like CAT, Komatsu and their dealers all over the world, such as Excavator/Loader Buckets, Extend Boom & Arm, Quick Couplers, Rippers, Amphibious Pontoons, etc.Bonovo Undercarriage Parts offered a wide range of undercarriage wear parts for excavators and dozers. Such as track roller,carrier roller,idler,sprocket,track link,track shoe,etc.

Q:Why choose BONOVO over any other companies?
A:We manufacture our products locally. Our customer service is exceptional and personalized for every customer. Every BONOVO product is armored and durable with a 12-month structural warranty. We use high quality materials sourced from the very best in China. Our design team works closely with customers for any custom orders.

Q:Which payment terms can we accept?
A:Normally we can work on T/T or L/C terms, sometimes DP term.
1). on T/T term, 30% advance payment is required and 70% balance shall be settled before shipment.
2). On L/C term, a 100% irrevocable L/C without "soft clauses" can be accepted. Please contact directly with our customer representatives for specific payment term.

Q:What logistics way for product delivery?
A:1).90% in shipment by sea, to all main continents such as South America, Middle East, Africa, Oceania and Europe, etc.
2). For neighborhood countries of China, including Russia, Mongolia, Uzbekistan etc., we can ship by road or railway.
3). For light parts in urgent need, we can deliver in international courier service, including DHL, TNT, UPS or FedEx.

Q:What are your warranty terms?
A:We provide a 12-month or 2000 working hours structural warranty on all our products, except failure caused by improper installation, operation or maintenance, accident, damage, misuse or non Bonovo modification and normal wear.

Q:What is your lead time?
A:We aim to provide customers with a fast lead time. We understand emergencies happen and priority production should be preferred in a faster turnaround. A stock order lead time is 3-5 working days, while custom orders within 1-2 weeks. Contact BONOVO products so we can provide an accurate lead time basing on situations.
Write your message here and send it to us