Mini Excavator 1 Ton – DG10
Product Detail
FAQ
Product Tags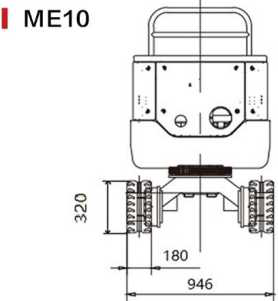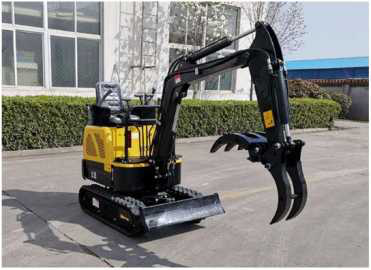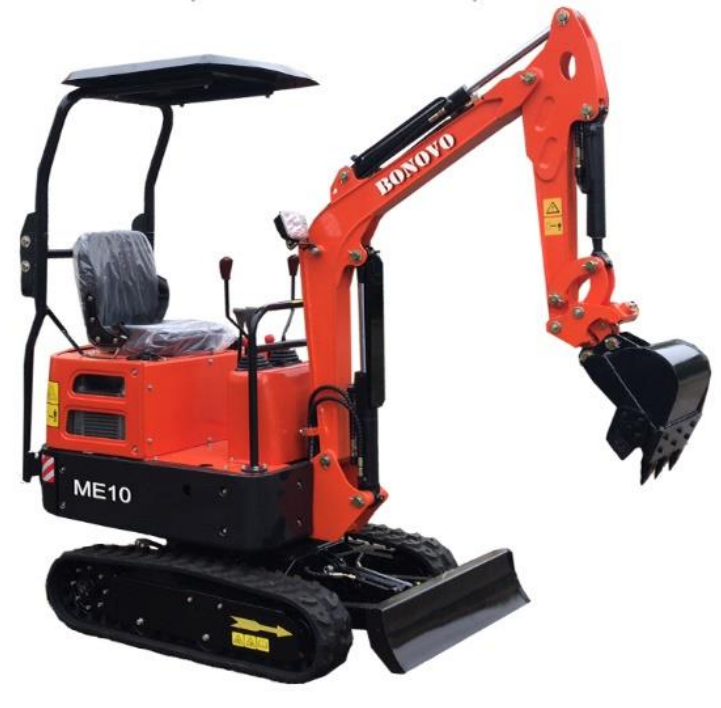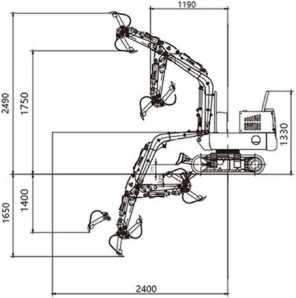 Specification

Machine Weight

882kg

Bucket Capacity

0.025m3

Bucket Type

Backhoe

Power

8.6kw
Parameters

Wheel tread

770mm

track overall length

1090mm

Ground clearance

380mm

Tail swing radius

733mm

Undercarriage width

946mm

Track width

180mm

Track height

320mm

overall length

2550mm

overall height

1330mm
Overall Parameters of ME10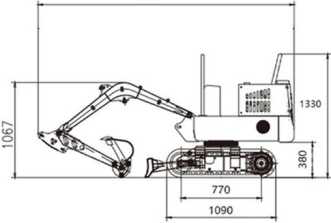 Operation Range

Max Digging Radius

2400mm

Max Digging Depth

1650mm

Max Digging Height

2490mm

Max Unloading Height

1750mm

Max Digging perpendicular Depth

1400mm

Mini swing radius

1190mm

Max Dozer blade lifting height

325mm

Max Dozer blade digging height

175mm
Applications - Small and micro excavators are suitable for small-scale projects such as urban reconstruction, farmland and water conservancy and construction in various narrow areas.
Mini excavators are machines that can be used for different uses, such as excavation, demolition and earthmoving. There are them of different sizes and powers, depending on the work to be done and they are super useful when doing farm tasks. Any trenching, digging, demolition, levelling, excavation, drilling, building, construction, hauling or any other related activities are required in your house or commercial space, or it could even be plain land, you could consider using a suitable mini excavator to do these jobs.
FAQ:
How Much is Your Mini Excavator?
You should always compare when looking at mini excavator prices. Compare every specification that comes with each excavator.
Prices differ depending on many factors. Make sure you understand them if you want to get the best deal.
Consider brand names, any attachments that are included, how long is the warranty of the excavator.
Whichever option is best for you, ask for our professional sales, our expertise will give you a correct answer. You'll love having an excavator all your own!
---
---
Q:Are you a manufacturer?
A:Yes! We are the manufacturer established in 2006. We do OEM manufacture service of all excavator attachments and undercarriage parts for famous brand like CAT, Komatsu and their dealers all over the world, such as Excavator/Loader Buckets, Extend Boom & Arm, Quick Couplers, Rippers, Amphibious Pontoons, etc.Bonovo Undercarriage Parts offered a wide range of undercarriage wear parts for excavators and dozers. Such as track roller,carrier roller,idler,sprocket,track link,track shoe,etc.

Q:Why choose BONOVO over any other companies?
A:We manufacture our products locally. Our customer service is exceptional and personalized for every customer. Every BONOVO product is armored and durable with a 12-month structural warranty. We use high quality materials sourced from the very best in China. Our design team works closely with customers for any custom orders.

Q:Which payment terms can we accept?
A:Normally we can work on T/T or L/C terms, sometimes DP term.
1). on T/T term, 30% advance payment is required and 70% balance shall be settled before shipment.
2). On L/C term, a 100% irrevocable L/C without "soft clauses" can be accepted. Please contact directly with our customer representatives for specific payment term.

Q:What logistics way for product delivery?
A:1).90% in shipment by sea, to all main continents such as South America, Middle East, Africa, Oceania and Europe, etc.
2). For neighborhood countries of China, including Russia, Mongolia, Uzbekistan etc., we can ship by road or railway.
3). For light parts in urgent need, we can deliver in international courier service, including DHL, TNT, UPS or FedEx.

Q:What are your warranty terms?
A:We provide a 12-month or 2000 working hours structural warranty on all our products, except failure caused by improper installation, operation or maintenance, accident, damage, misuse or non Bonovo modification and normal wear.

Q:What is your lead time?
A:We aim to provide customers with a fast lead time. We understand emergencies happen and priority production should be preferred in a faster turnaround. A stock order lead time is 3-5 working days, while custom orders within 1-2 weeks. Contact BONOVO products so we can provide an accurate lead time basing on situations.
Write your message here and send it to us