It always pays to inspect construction equipment periodically. This can prevent future downtime and prolong the life of your machine. In these uncertain times, it's more important than ever to keep equipment running efficiently and reliably, and your maintenance staff may have some extra time to do checks.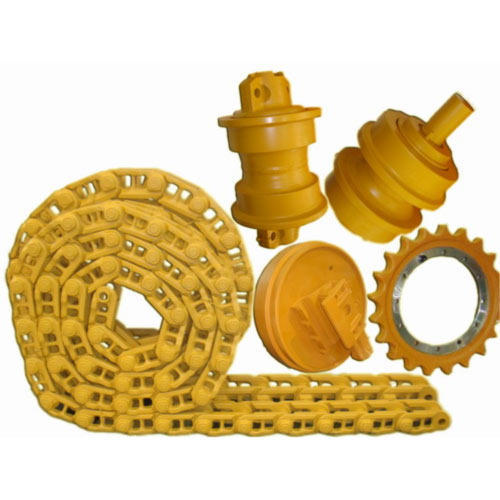 Monitoring the landing gear of the machine is particularly important. The landing gear supports the total weight of the machine and is constantly affected by rocks and other obstacles as it runs. Many of its components are exposed to constant wear and stress. This is also the most expensive part of the excavator. By keeping the landing gear in good condition, you can expect to improve safety and efficiency from the machine.
BONOVO dealership technicians are an important resource for performing landing gear inspections. But we recommend a visual inspection every week or every 40 working hours, which means your technician and operator should do it too. With that in mind, I'd like to give you some tips for checking your gear's landing gear, as well as a downloadable checklist to make it easier.
A quick note: Visual landing gear inspection should not replace regular landing gear management. Proper landing gear management requires measuring the gear, tracking wear, replacing worn parts, and swapping parts locations to extend the overall life of the gear. You need the chassis dialogue table for each brand to convert their wear percentage.
Clean the machine before inspection
The machine should be checked, it should be somewhat clean for accuracy. Although this can be time consuming, cleaning the landing gear regularly will leave it in better condition, making it easier to detect problems early and reducing wear on parts.
Track tension
Track tension was measured and recorded. Adjust track tension if necessary and record adjustments. You can find the correct track tension in the operating manual.
The component to check
When inspecting the Undercarriage checklist, check only one side at a time. Remember, the sprocket wheel is at the back of the machine and the idler wheel is at the front, so there is no confusion on the left and right sides of the report.
Remember to check:
Track shoes
Links
Pins
Bushings
Top rollers
Bottom rollers
Idlers
Sprockets
See this checklist for more information about what to look for on each component. There are a few things I would like to point out in particular:
Examine components against the description of a particular component. Take notes and write down any useful comments.
Check each link carefully for cracks, peeling, side wear and pin holder wear. You can also count the links to see if one has been removed during assembly to strengthen the landing gear. If someone makes it too tight, it will mean trouble in the near future.
For more information and to see what I'm talking about, watch this video on examining the undercarriage of an excavator.
Wear distribution
The final step is to compare the two landing gear assemblies to each other. Is one side more than the other? Use the wear profile at the bottom of the checklist to indicate the overall wear on each side. If one side wears more than the other, show this by marking the side that is further from the center, but still wears relative to the better side.
Additional chassis resources
If you're not sure what you're looking at, or what you might need to do, your local dealer can help. You can also read more about the importance of landing gear care here.
Buying a machine with chassis warranty coverage is another good way to ensure that parts remain in good working order. Volvo recently launched a new extended chassis warranty that covers eligible customers buying replacement and dealer-installed chassis for four years or 5,000 hours, whichever comes first.
In addition to checking the current fleet's landing gear, it's important to carefully evaluate the gear and other components of any used machine you're considering buying. Check out my blog post on how to check used device components for more tips.
---
Post time: Oct-16-2022